It's a controversial topic yes, but there really is no right or wrong answer.  
There's no doubt that children can be the most entertaining part of a wedding day, looking completely gorgeous in their little outfits, toddling up the isle feeling so special, and of course showing off all their best moves on the dance floor.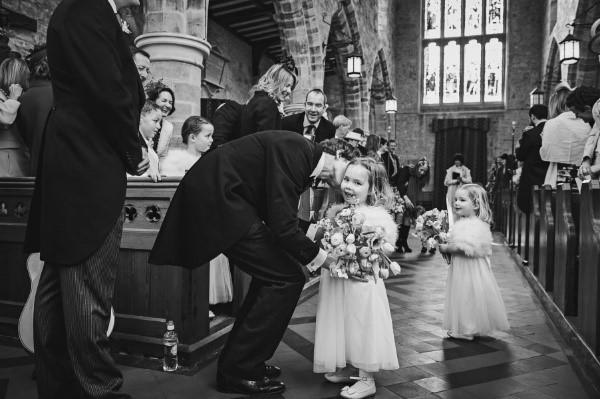 (photo credit Cloud 9 Wedding Photography)
But, it can be a really long day for them where their routines go out of the window and lots of unfamiliar people are cooing over them.  Meal times aren't where they should be and Mummy and Daddy really want to be socialising with all their friends not sat on the floor in their best clothes playing cars or reading Peppa Pig for the 40th time.  This is when things can take a turn for the worst and tiredness mixed with boredom never ends well.
Previous experience tells me that brides to be really worry about it. Do we say no children and risk upsetting friends or guests not being able to come because of childcare? Or should we make it a free for all which may end up costing the earth?  Agh, there has to be a happy medium surly?
Solutions may include 
- No Children
- Goody bags on tables
- Entertainer, or bouncy castle (although this option still has to be supervised by someone)
- Event nannies (highly recommended!)
- Children for the day but not the evening
- Or What the heck, it's a family day, lets invite everyone!
With hiring an event nanny comes piece of mind that your younger guests will be occupied and supervised, therefore no embarrassing mishaps at inopportune times.  It gives your guests the opportunity to fully relax and share the day with you. 
Whatever you decide, just remember it is your day so do what you think is best, don't worry about upsetting Auntie Mable who doesn't like noise or Cousin Alice who has twins. True friends and loved ones will want to spend this special day with you regardless.